ASE Book of the Year Award 2023
ASE Book of the Year is back for 2023 and we can't wait to read all of your wonderful publications again this year.
The award is designed to celebrate science writing that educates and inspires science learners and educators of all ages. We are seeking books:
with engaging content
that go that extra mile and support our vision of "science for all"
that can supplement a teacher's understanding or be something that goes beyond the traditional science curriculum
that sparks a child's interest away from the classroom
The publication submitted can be popular science or an educational resource. The review panel will be looking for books that are engaging, accessible and high quality. Each title will be evaluated by an expert, independent review panel drawn from our extensive pool of members.
The award is presented at our Annual Conference in January and aims to raise the profile of science publishing and showcase the best authors. The winner of the ASE Book of the Year will be invited to host a book signing at ASE Annual Conference, giving them the opportunity to celebrate and share their book with a community of science educators and professionals.
Shortlisted authors for this year's award will be offered a free day to attend the ASE Annual Conference, so they can be present for the presentation of the award, it is a wonderful opportunity to meet like-minded science educators and listen to key speakers.
SUBMISSIONS ARE NOW CLOSED FOR 2023
Please contact Laura Townsend, Publications Manager if you have any further questions: lauratownsend@ase.org.uk 
---
Criteria for title submission:
The science content must be accurate and up to date
The publication needs to be considered useful to teachers of science
Textbooks and exam board-specific material will not be accepted
It must have been published in the period from 1 July 2022 to 30 June 2023
Books must be submitted written in the English language
8 physical copies of the book must be provided to ASE for review (details on the submission form)
Unfortunately NO eBooks can be accepted
You must be able to grant permission for ASE to resell this title (subject to terms)

You must also be able to grant ASE a 50% reseller discount on the publication

Any queries should be sent to: lauratownsend@ase.org.uk
By submitting to the ASE Book of the Year you are agreeing to the above criteria and terms
The Panel's decision on the eligibility of an entry is final.
Entries must be made by the publisher of the book
Entries must have an English language version published between 1 July 2022 and 30 June 2023.
There is no restriction on the location of publishers. There are no restrictions on the nationality, age or any other characteristic of the author/s.
Publishers may submit up to 5 entries.
There is no charge to enter.
The author/s of the book will be the recipient of the award.
Books must be submitted by the publisher and any submission will be taken as agreement for the work to be considered.
The publishers must be able to give the ASE permission to sell the title through their online bookshop and at events; terms and conditions to be agreed.
The review panel is appointed by the ASE. The judge's decision is final.
In the event of a book being shortlisted for the Award, publishers agree that they will supply a book synopsis, author biography, photograph of the author and book cover (licensed for royalty-free use and distribution).
The winning authors should be able to participate at the ASE Annual Conference 2023 at the Sheffield Hallam University dates TBC (typically first week on January) .
Publishers will be allowed to acknowledge the Award in subsequent reprints, editions and marketing of shortlisted and winning books.
No books submitted will be returned to the publishers.
The Award has no monetary value.
Last year's winner
We are delighted to announce the winner of ASE Book of Year 2022 is...
Winner of ASE Book of the Year 2022:
Our Time on Earth: From the Mayfly to the Immortal Jellyfish 
by Lily Murray (Illustrated by Jesse Hodgson)
This book gives a wonderful insight into animal lifespans, from the mayfly (with the shortest lifespan of a few hours) and ending with the immortal jellyfish. The author uses lyrical and descriptive text against a backdrop of gentle artwork to create a very moving book that should be a staple in every home, classroom and library. This book is a celebration of life and gives an absolutely fascinating account of creatures' habitats, features and habits. This book absolutely deserves the title of ASE book of the Year 2023 and huge congratulations to Lily Murray and Jesse Hodgson for Our Time on Earth, a beautifully crafted book.
Highly Commended for ASE Book of the Year 2022: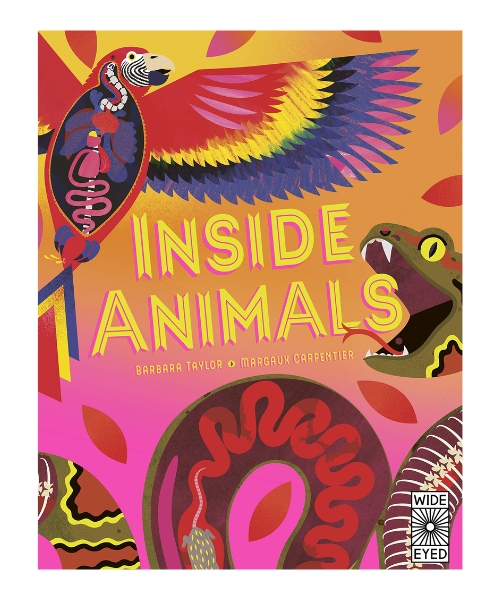 Inside Animals
by Barbara Taylor (Illustrated by Margaux Carpentier)
This is a stunning book which gives the reader a unique  glimpse inside 21 animals to see how their skeletons, organs, nerves and muscles fit together. It is an absolute treat for the senses and is one of those books that you cannot put down as each page is superbly illustrated and full of fascinating facts. Children will love learning about the zoology of the animals that are included in its pages.
ASE Book of the Year 2022 Shortlist
Below is the short list for ASE Book of the Year 2022
---
A Walk in the Woods: A Changing Seasons Story

Inside Animal

RSPB Nature Guide: Minibeasts

Our Time on Earth: From the Mayfly to the Immortal Jellyfish

by Flora Martyn (Author), Hannah Tolson (Illustrator)
by Barbara Taylor (Author), Margaux Carpentier (Illustrator)
by Catherine Brereton (Author), Kate McLelland (Illustrator)
by Lily Murray (Author), Jesse Hodgson (Illustrator)

 

Come rain or shine, Oscar and Lucy walk Jasper the dog every day. In spring, the world is waking up. On hot summer afternoons picnics are a joy to have. On autumn evenings, the sky turns black and minibeasts find their perfect hiding spots. Winter mornings are frosty and cold. Spot all the nature elements that make woodland walks so special!

 

Did you know that a frog can stop its heart from beating? Or that an elephant's tooth is heavier than a brick? Or that the brain of an ostrich is smaller than its eyeball?

21 cross-sections show how skeletons, organs, nerves and muscles fit together inside creatures from across the globe. Each creature has its own unique body to help it survive and thrive in the wild.

Minibeasts are everywhere to be found! From gorgeous orange-tip butterflies to the fierce looking stag beetle, get ready to find out about over 190 different minibeasts and bugs. There are so many wonderful living things to meet in this children's spotter's guide, published in collaboration with the RSPB.

This breath-taking title provides a unique and beautiful insight into one of the most taboo subjects in biology – animal lifespans.

Beginning with the very shortest (the mayfly, which lives for just a few hours), and ending with the death-defying immortal jellyfish, the book is far from bleak – it is in fact a celebration of life, and gives an absolutely fascinating account of these creatures' habitats, features and habits.
ASE Book of the Year 2021 Shortlist
Below is the short list for ASE Book of the Year 2021
---
| | | | |
| --- | --- | --- | --- |
| | | | |
| A Trip to the Future | Prehistoric Pets | Fox: A Circle of Life Story | Train Your Brain: Think Like a Scientist |
| By Moira Butterfield | By Dean Lomax | By Isabel Thomas Illustrated by Daniel Egnéus | By Alex Woolf |
| From floating cities to colonies on far-off planets, each spread will take the reader further and further from home. Stunning full-page spreads create an immersive feel.  | We take a close look at our pets, from guinea pigs to cats to horses, and - as if they were furry time machines - use fossil facts to trace them back to their prehistoric animal ancestors. | Brings together story and science to explain this big concept to children who have lost a pet or a loved one, or who simply are curious about death and what happens after we die.  | Children's brains are powerful and flexible, but they need exercising and challenging to develop. In this book they will uncover the core skills that can make a good scientist great. |
| | | | |
---
ASE Book of the Year 2020 Shortlist
Below is the short list for ASE Book of the Year 2020
---
| | | | |
| --- | --- | --- | --- |
| | | | |
| A Climate in Chaos | Do You Love Bugs? | Fantastically Great Women Who Saved the Planet | Wildhood |
| By Neal Layton | By Matt Robertson | By Kate Pankhurst | By Barbara Natterson |
| Our world is warming up, and it's a big problem. Award-winning author-illustrator Neal Layton is here to explain what climate change is, what's causing it and why it's dangerous for animals and humans alike. | Find out how honey bees make their honey, why moths always fly around lamps and how bombardier beetles protect themselves from hungry predators. | Brings together story and science to explain this big concept to children who have lost a pet or a loved one, or who simply are curious about death and what happens after we die.  | Examine the four universal challenges that every adolescent on our planet must face on the journey to adulthood: how to be safe, how to navigate hierarchy, how to court potential mates, and how to leave the nest.  |
| | | | |
---
ASE Book of the Year 2019 Shortlist
Below is the short list for ASE Book of the Year 2019
---
| | | | |
| --- | --- | --- | --- |
| |   |   |   |
| The Molliebird: An Evolution Story | If Polar Bears Disappeared | The Element in the Room | Highly Commended -The Problem with Plastic |
| By Jules Pottle | By Lily Williams | By Mike Barfield & Lauren Humphrey | By Ruth Owen |
| After a natural disaster that leaves her badly camouflaged in her surroundings, the bright blue Molliebird becomes desperate for her babies to survive.  | The Arctic is home to many different kinds of animals. They can be strong like a walrus, tough like a lemming and sometimes hard to see like a polar bear. But now their habitat is melting at an alarming rate. | Brings together story and science to explain this big concept to children who have lost a pet or a loved one, or who simply are curious about death and what happens after we die.  | Children's brains are powerful and flexible, but they need exercising and challenging to develop. In this book they will uncover the core skills that can make a good scientist great. |
| | | | |
---
ASE Book of the Year 2018 Shortlist
Below is the short list for ASE Book of the Year 2018
---
| | | | |
| --- | --- | --- | --- |
| | | | |
| The DNA Detectives: To Catch a Thief | The End of Epidemics | The Poo That Animals Do | Destroy This Book in the Name of Science |
| By Mandy Hartley | By Jonathan D Quick | By Paul Mason and Tony De Saulles | By Mike Barfield |
| The first book in the 'DNA Detectives' series. The story is based on a famous five style adventure where the characters use DNA to solve a crime. In addition to the exciting storyline readers will learn about DNA, cells and forensic science. | Somewhere out there, a super virus is boiling up in the bloodstream of a bird, bat, monkey, or pig, preparing to jump to a human being. This as-yet-undetected germ has the potential to kill more than 300 million people and reduce global GDP by 5–10%. | A fascinating insight into the world of animal poo – with "strange but poo" facts, from the smelliest, biggest, smallest, and most expensive poo to poo camouflage and keeping warm, discover all there is to know about animal poo and its uses, supported by real science.  | Is the ultimate activity-based book, perfect for curious children who are inspired by cool science, with fascinating information, colouring and doodling activities to complete |
| | | |   |
---
ASE Book of the Year 2017 Shortlist
Below is the short list for ASE Book of the Year 2017
---
| | | | |
| --- | --- | --- | --- |
| | | | |
|  I love This Tree | Lost Science: Astonishing Tales Of Forgotten Genius | The Best Ways To Teach Primary Science | Roller-coaster Ride Around the Body |
| By Anna Claybourne | By Kitty Ferguson | By Michael Allen | By Gabby Dawnay |
|  A book which looks at the life of an old living deciduous tree and through it explores the amazing life of a tree and the creatures that inhabit it. Using a mixture of photos and artwork the book shows how the tree has changed and how it acts as a habitat for other life. | Acclaimed popular-science writer Kitty Ferguson investigates little-explored by-roads in the history of science, from Johannes Kepler's nearly disastrous venture into the realm of science fiction to a mid-20th-century experiment involving cats and rocket fuel.  | Drawing on the significant body of research carried out over the past 35 years, the book provides valuable evidence about which tried-and-tested approaches enhance learning and help children actually learn science.  | Jump on board and take a ride around the human body on our read-aloud, rollicking rollercoaster. Created by CILIP Kate Greenaway Medal nominees Gabby Dawnay and Alex Barrow, prepare to take your inquisitive youngster on a visually led, fast-paced rhythmic trip. |
|   | | | |
---
ASE Book of the Year 2016 Shortlist
Below is the short list for ASE Book of the Year 2016
---
| | | |
| --- | --- | --- |
| | | |
| The Abyss of Time | Self-Destructing Science: Space | Exploring Science with Young Children |
| By Paul Lyle | By Isabel Thomas | By Terry Russell and Linda McGuigan |
|  Geologists are among that group of scientists who must factor the passage of time into their investigations and they thus have a perspective on time that sets them apart from many other researchers. The proposition that geological time is vast, encompassing thousands of millions of years, is relatively recent.  | Warning: this book will self-destruct! Packed full of fun and exciting projects which use its pages in different ways, this book will have you tearing, folding, cutting, experimenting and scribbling as you find out all about the wonders of space.  | Science in the early years is about more than developing understanding of key scientific concepts. It is about encouraging imagination, creativity and curiosity and nurturing key scientific skills to form a firm base for learning. |
| |   | |
---