Inclusion in Schools - fully funded support to enhance diversity and inclusion in your school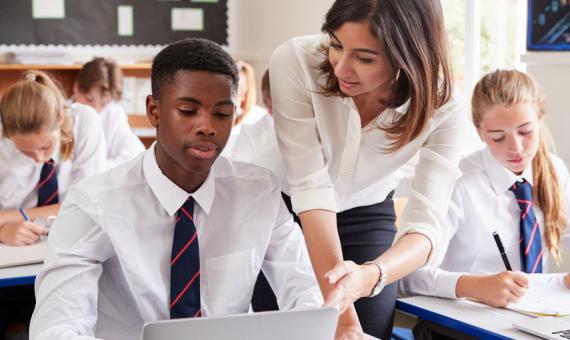 Introduction
'Inclusion in Schools' is a DfE fully funded national project that aims to support secondary schools to address barriers to inclusion that can affect student educational outcomes and future pathways.
Inclusion is now a priority for many schools and this programme will help you drive change at a whole-school level to enable your students to thrive and achieve their full potential.
"This is a fantastic opportunity for school's not to miss! We are seeing the immediate benefits to both staff and students."
Why inclusion is important to every school
At the Association of Science Education (ASE), inclusive education means that everybody, regardless of circumstances, can contribute constructively to the school community, feel valued and feel positive about the future.
For your school, having an inclusive education could mean that your students:
have a greater sense of belonging, which can impact on their wellbeing and how their engage in lessons
are better informed about their subject choices, impacting their future pathways
celebrate difference in your school and when they transition to the workplace
In addition, Ofsted continue to evaluate schools practice around the Equality Act (2010) and expect to see this through the embedded culture of a school.
What your school will be provided with
Invitations to live online CPD from expert speakers on a wide range of inclusion topics which all your staff can attend
Access to a library of online CPD, webinars and other inclusion-focused resources
A range of networking opportunities with other schools to share best practice and discuss challenges
"Access to CPD has been very useful in raising the profile of inclusion in our school and stimulating discussions"
Schools who are eligible for additional support will also receive;
"Our Consultant always gives incredible guidance and clear action plan. They inspire us to complete objectives that they helps us set and always keep us focused and motivated by reminding us how far we have come since we started with ASE"
How to get started
Express your interest using our registration form. One of our team will be in touch soon after.
One of our consultants will have an initial meeting with you to explain the project and answer your questions.
If your school joins our programme, we will work with you to understand your school's needs, what support you need and what interventions are going to have the most impact.
What we ask from you
A member of SLT to drive the work within the school
A member of staff to lead on the project
A commitment to develop a whole-school action plan
A commitment to engage with the CPD on offer
Regular progress updates / meetings, every 6-8 weeks
Which schools are eligible?
All state-funded secondary schools in England are eligible to join the programme. We are particularly interested in working with schools based in areas of disadvantage.
What next?
To find out more about the programme, please complete the registration form and one of our team will be in touch with you shortly.
"The contacts, connections and conversations that this has led to have been great from our staff and students and have helped shaped our next steps in terms of improving inclusivity and diversity."