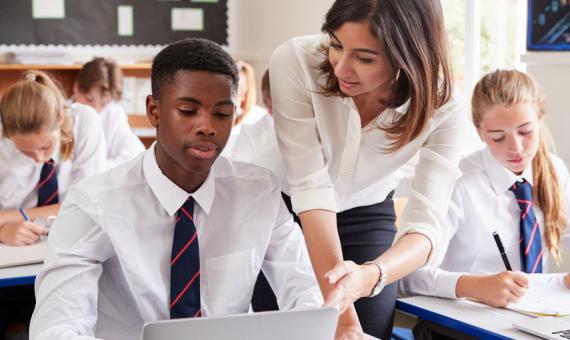 The Association for Science Education is the leading learned society for science education and inclusion, with years of experience supporting schools to become more inclusive, leading with great success. The Inclusion in Science programme is a course for teachers who recognise inclusion is key to addressing gaps in engagement and attainment they see for different groups of students. It is a course for teachers who want to reflect and make changes so every student feels that science could be for them...
What is the Inclusion in Science programme?
The recent House of Commons Committee's report on 'Diversity and Inclusion in STEM' recognises the essential roles that effective diversity and inclusion strategies and practices have in improving the future of young people, society and the economy. Engaging students in STEM is a chance to address the lack of diversity in STEM at all levels.
Inclusion in Science is a fully-funded, DfE national project that aims to teachers of KS3/4/5 science in state-funded schools in England to move forward with EDI. This course is an opportunity for you - as a science educator - to engage in professional learning; reflect on and develop your personal practice; address any biases and evaluate the impact of inclusive practice on student learning and engagement...
| | | |
| --- | --- | --- |
| You want to... |   | To do this we will support you to... |
| Invest in your personal practice and career development. | >>>>>>>> | Developing your classroom pedagogy, provide tools to address attainment gaps and give you a strong foundation in inclusion in education. |
| Understand why inclusion is important for all students and how you can use this knowledge effectively. | >>>>>>>> | Providing an overview of why inclusion matters, EDI and the legal framework, and helping you identify barriers to inclusion. |
| Understand the barriers some students experience engaging with science. | >>>>>>>> | Highlighting how bias affects student engagement, the impact of stereotypes and why an intersectional approach is essential. |
| Challenge stereotypes and ensure every child feels welcome in your classroom. | >>>>>>>> | Showing you the impact of language in the classroom and identifying strategies to embed more inclusive language in your practice. |
| Give every child a welcoming space to explore science and develop their learning. | >>>>>>>> | Supporting you to effectively use existing pedagogy to engage students and help students feel a sense of belonging in the science classroom. |
| Use the curriculum and your pedagogy to promote diversity and challenge bias. | >>>>>>>> | Demonstrating how to create a curriculum that is relevant and relatable to your students, challenges stereotypes, and meets the Gatsby Benchmarks.  |
| Widen and broaden the aspirations of your students and help them see the possibilities available to them in science. | >>>>>>>> | Helping you identify strategies you can implement to encourage students to consider science as a future career. |
"All of the CPD I have attended so far through Inclusion in Schools has been invaluable, outstanding! Really making my life easier, thank you!"
Who is this course for?
Inclusion in Science is a course for individual teachers of KS3, 4 or 5 science in state-funded schools in England to improve their personal practice and enhance their career opportunities.
If you already have a leadership position in your school, our Inclusion in Science Leaders programme runs alongside this, with a choice of pre-module tasks and additional time built in for a discussion with other science leaders around how to embed inclusion across your department and beyond to improve attainment.
What does it involve?
This CPD programme is fully funded by the DfE, so there are no costs to your school. The programme will start in October and will be based on six modules to be completed over six months with nine hours of contact time. Each module will consist of a short pre-module research task, followed by an hour-long webinar to develop this learning in greater depth.
Additional seminars will be held after every two modules, designed to reflect on your progress, explore any ideas that have come up through our discussions and practice, and consider how to take the next steps. Leaders will also be given an opportunity to meet with other science leaders to discuss issues surrounding leading inclusive change across your department and school.
To enable participants to fit this professional learning around other commitments, all webinars and seminars will be held online during twilight hours, with repeated sessions hosted throughout the week.
Additional support
Access to an online learning platform to develop your thinking, provide you with resources and opportunities to engage with expert practitioners, and discuss topics with other programme participants.
A library of resources and videos to deepen your learning and support you as you implement changes in your practice.
One of our Inclusion in Science experts will be on hand to support you throughout the course. They will guide you through the online pre-module tasks, webinars, and seminars. They can support you to develop an action plan to support implementation in the classroom and most importantly allow you to evaluate and measure the impact of the programme on your students, other colleagues and the school.  They will be contactable for extra support throughout the programme period.
To secure your place sign up via the button below. For any further queries, please don't hesitate to get in touch via inclusioninschools@ase.org.uk.
Files

Inclusion in Science Module details.pdf
Click links to download individual files or…