Practical science – it's still safe and it hasn't been banned!  Practical work is at the heart of science learning, yet there is a popular misconception that many practical activities in science can't be carried out in schools because of the limitations imposed by health and safety legislation. The publications and links below offer guidance on how to plan safe and exciting practical work in science, engaging pupils without compromising health and safety standards.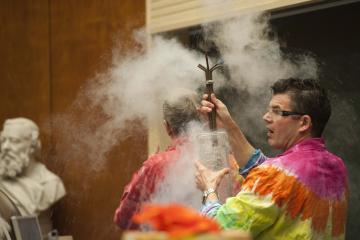 Encouraging good practical science
Oh yes you can! (EiS 224) This article debunks myths around supposed bans of school science experiments.
We don't do that - it's not safe anymore  (SSR 332) Investigates how over-cautiousness can inhibit good science teaching. 
Yes you can! Workshop (2017) These notes from ASE Annual Conference encourage practical science by helping teachers and technicians identify safe ways of working, and also to help develop new, exciting, and safe practical activities.
Best Practice for Heads of Science and Headteachers
Key resources and publications available from the bookshop