CENTURY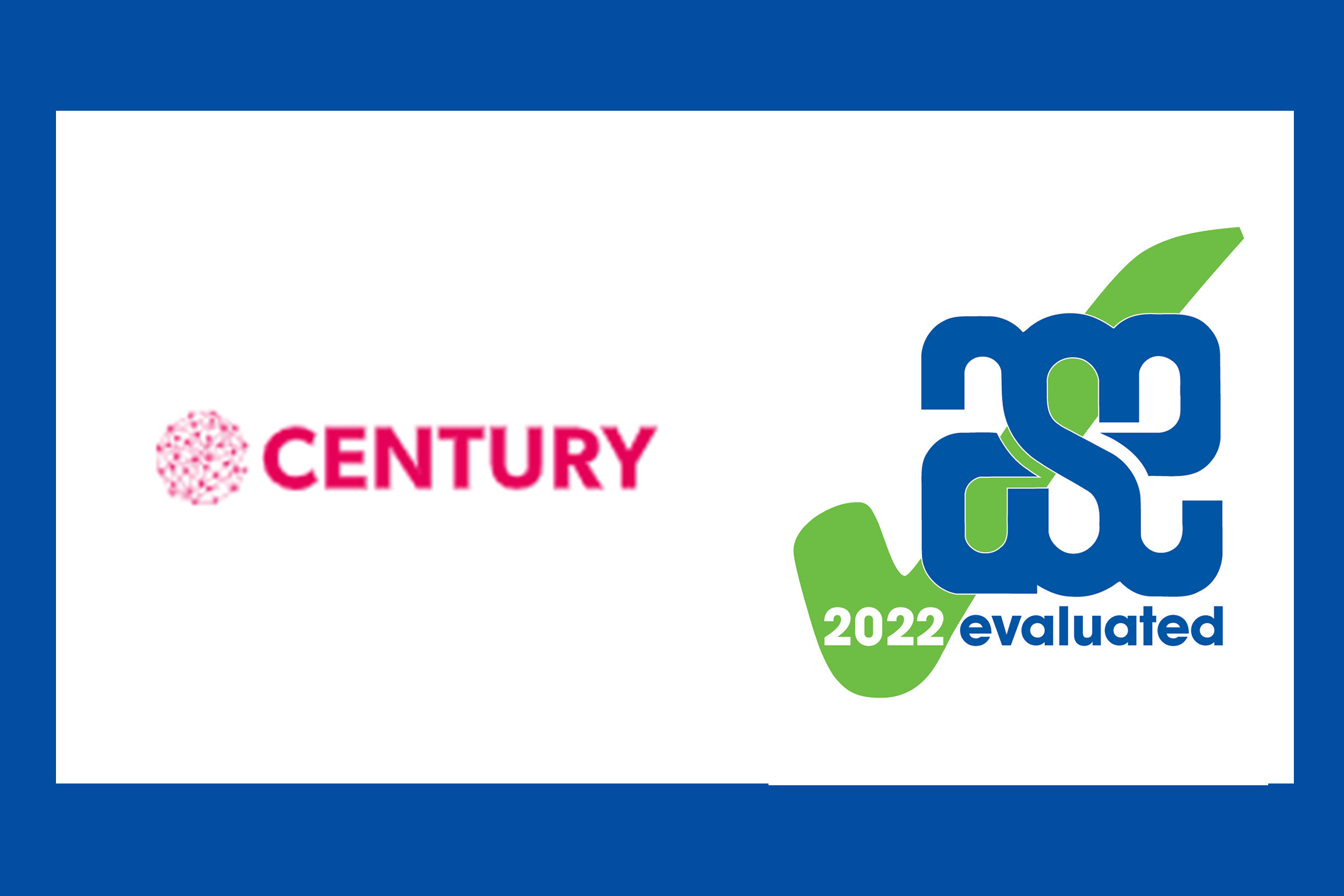 CENTURY have just been awarded the ASE  Green Tick and to celebrate being awarded a Green Tick for their secondary science content, CENTURY are offering all ASE members free access to their award-winning teaching and learning tool for the rest of this academic year until September 2022. Find out more at
https://www.century.tech/science
Overview
CENTURY is an intelligent learning platform that uses artificial intelligence (AI) to tailor learning materials to the individual learning needs of each student. It comprises a series of micro-lessons called 'nuggets' for several different courses at KS2, KS3 and KS4 for English, maths and science. Not all science authoring is complete at the time of this evaluation.
This evaluation focuses on GCSE sciences. There are CENTURY courses that match GCSE specifications for AQA Combined Science Trilogy biology, chemistry and physics, Edexcel IGCSE separate sciences and Edexcel IGCSE Double Award. Currently, content covers AQA Trilogy Paper 1 topics and the first part of Paper 2 at foundation level and the equivalent topics in Edexcel IGCSE, although the rest of Paper 2 content and higher tier content is under development. However, schools can customise current content to suit Edexcel and OCR GCSE specifications by selecting or deselecting nuggets. Once all nuggets have been written and added to the platform, CENTURY will create courses for all specifications.
CENTURY offers schools a highly flexible teaching, assessment and revision platform that allows different methods of use and approach with great functionality:
Students can use the platform to revise GCSE content at any time.
Schools wishing to implement a 'flipped learning' model can use 'learning nuggets' to introduce and assess new material prior to work with that material in class.
Teachers can assign work to students, with a due date, as tasks.
Teachers can use nuggets alongside class teaching to reinforce and assess learning.
Nuggets
Diagnostic nuggets
The purpose of a diagnostic nugget is to probe student understanding of discrete sections of a topic. Diagnostic nuggets present students with a series of multiple-choice, drag-and-drop or short typed-answer questions. They also give students an option to give an 'I don't know' response. Diagnostic nuggets do not provide students with feedback about their performance. Instead, the platform uses data from the assessment to determine which learning nuggets to assign and then adds them to the student's learning path as a 'Focus for Improvement' nugget.
Learning nuggets
Learning nuggets typically comprise a short, narrated video and a slideshow, each covering the same content that students can choose from, followed by a series of questions that probe student understanding of that nugget. Once again, these are multiple-choice, drag-and-drop or short typed-answer questions. Each nugget assessment provides students with immediate feedback after each question: whether they have answered the question correctly or not, and a feedback statement. At the end of the questions, the platform gives students a summary of their overall performance on that nugget as a percentage completed, a percentage score and an overall feedback statement, e.g. Great job – it looks like you understand this well.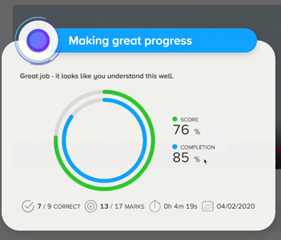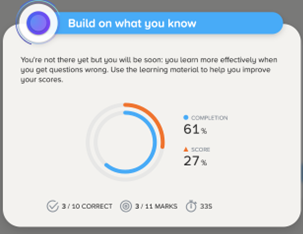 Screenshots: Learning nugget feedback
Feedback also appears as a coloured arc that indicates performance levels: green for attaining over 70% in the assessment; yellow for 40% -70%; and orange for less than 40%.
To gain 100% completion indicated by the inner circle, a student would need to visit each slide in the presentation or watch the entire video and answer all the questions.
At the end of the nugget, the platform prompts students to rate it on a 1–5-star scale and demonstrate their feelings about it using one of a series of emojis, to provide feedback for the AI. Should a student wish to retake a nugget, they would be presented with questions that are slightly different, ensuring that they work out all answers a second time rather than relying on their memory of previous questions and answers.
There are thousands of nuggets or micro-lessons that cover the curriculum content and assess student understanding, and the development team continually updates and improves them based on feedback from teachers and their students. In addition to curriculum 'content' coverage, there are nuggets that cover Working Scientifically skills, required practical activities and maths skills, and these are most welcome. It is also apparent that many of the assessment questions within learning nuggets test students' application skills, and so Assessment Objective 2 (AO2) is well covered. As might be expected, AO3 (analysis and evaluation skills) tend not to be as well covered by the assessments, but CENTURY offers a way round this by allowing teachers to set tasks.
One cautionary note is that courses may include 'supplementary' nuggets, which provide learning beyond the specification. However, they do provide enrichment or learning that supports students to access required specification content. Schools can customise student courses, should they wish, to avoid students completing these nuggets. The 'Secondary Science Mapping Document' provided on the CENTURY website clearly identifies all supplementary, prior knowledge and extension nuggets.
Subject expert content analysis
Our subject expert evaluators particularly liked:
The videos, because the content is good, they are well-written and produced, explanations are very thorough, and they convey concepts well. For example, the colour-coded molecule diagrams in nugget 'Formulae for Compounds with Brackets [CH1.05]' make formulae so much clearer and easier to understand. One reported 'a sense that the author is teaching for understanding rather than just ticking boxes on the syllabus statements.' There were some very good explanations addressing common misconceptions. The nugget 'Evaporation vs Boiling [PH3.22]' is a good example, by clearly comparing the different meanings of boiling and evaporation, so highlighting the difference between particle and material properties. All learning nuggets have a slideshow and most have a video as well. The CENTURY curriculum team is working hard to ensure that every learning nugget has both a video and a slideshow, so providing students with a choice of learning media.
The assessments, because of the carefully written, high-quality questions. Learning nuggets are always followed by at least ten questions that are perfectly accessible for the target audience. If students perform poorly with a particular assessment, they may repeat the nugget. The follow-up assessment may have tweaks or changes in the questions, ensuring that students read the question and possible responses carefully. Many, but not all, questions have a hint or comment that pops up after the question, which is a helpful learning feature. Feedback within some questions is very good; for example, identifying a unit conversion error in a student's free response answer within the magnification unit. Some assessment questions such as photo application questions are marked as 'challenging' and offer greater stretch and challenge.
Required Practical Activity coverage is well-received. For example, the osmosis required practical activity is helpfully split into data collection and analysis. This allows students to fully understand the practical procedure before embarking on the analysis. In physics, there are nuggets that illustrate and label different versions of equipment, making it straightforward for students to apply learning material to local equipment choices.
A student's experience of using CENTURY
Students access their courses by logging onto the platform and then are offered different options for accessing learning by selecting one of three tabs: My Path, My Courses, My Assignments. A fourth tab, My Dashboard, provides the students with an overview of work that they have completed and their performance.
My Path
Once a student logs in, they arrive on a landing page that contains their Recommended Path. The path contains a sequence of topics for the student to follow, but it is not a fixed path; it changes depending on the nuggets that a student completes and their performance on assessment questions within each nugget.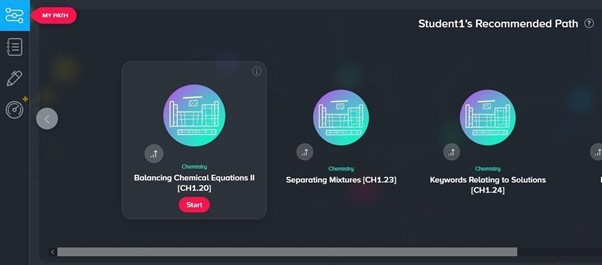 Screenshot: Student 'My Path' screen
If left completely to the platform, a student's recommended path would initially comprise mostly diagnostic nuggets. However, as they complete diagnostic nuggets, the platform's AI assigns learning nuggets that address areas of weakness identified and adds them to the learning path. The more nuggets that a student completes, the better the personalisation provided by the platform.
The recommended path may also include nuggets assigned by the class teacher, and the platform's AI may assign 'Memory Boost' nuggets to revisit prior learning. The platform identifies why it has added a nugget to the student's learning path by a symbol in the bottom left corner. Students can see a key to the symbols by clicking on the question mark next to the recommended path heading.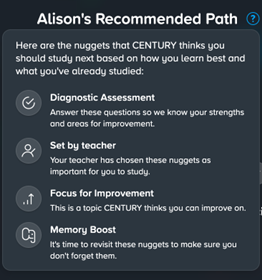 Screenshot: Nugget purpose symbols
The lower portion of the My Path screen features a box containing a list of assignments due, and a box entitled My Streak that challenges students to complete at least five nuggets in a week to maintain their streak. This ties in nicely with familiar gaming and learning apps such as Duolingo.
Students can filter the nuggets and assignments on the My Path screen by toggling subjects in a drop-down menu at the top right of the screen. This is particularly helpful for students wishing to focus their revision on one subject at a time.
My Courses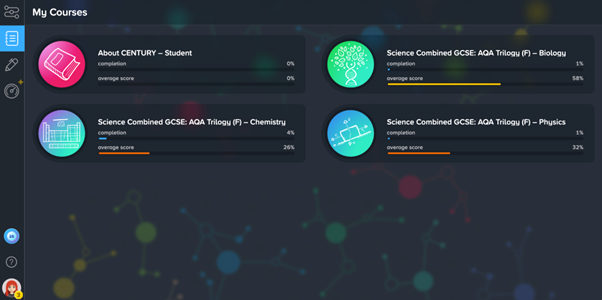 Screenshot: 'My Courses' screen
Selecting My Courses presents students with a list of their assigned courses. This screen provides students with an overview of their percentage course completion and average course score. Selecting a course from this screen allows students to select course nuggets by using a search function, by scrolling down a list or by selecting a topic (referred to as a 'Strand') and drilling down. When using the search function, students can type in a nugget title, key word or nugget reference. Typing in a key word finds all nuggets whose title contains that word.
In addition to their academic courses, each student receives a course consisting of two nuggets that explain about CENTURY and answers students' FAQs. The student video recommends going through individual slideshows and videos and making notes – a classic 'conversion' activity, proven by research to improve retention by making learners engage with content. It explains to students that the questions are not a test – they can return to the video or slideshow to help them to answer them – but the platform's AI uses their answers and learning behaviours to determine next or additional learning steps.
My Assignments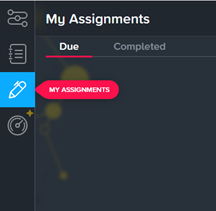 Screenshot: 'My Assignments'
Selecting My Assignments presents students with lists of assignments due and completed. Selecting a due assignment provides the student with a task, or a nugget or nuggets to complete. A teacher may create an assignment from their dashboard linking it to a subject and key stage / exam course. The assignment could be a task or a nugget. Teachers are also able to set nuggets or diagnostics to appear at the front of each student's recommended path, overriding the platform's AI. An assignment also appears in the student's assignments box with a due date.
Teachers can create assignment tasks by typing, copying and pasting, uploading a document or file from a Dropbox folder, Google Drive or OneDrive, or recording an audio or video file. For a typed / pasted task, there is also a facility to add an equation, image, or link to a video file as an additional stimulus. The flexibility of task creation and presentation methods is particularly welcome, especially for the sciences. Students can respond in a similarly flexible way: typing, pasting, uploading or recording audio or video. Teachers can mark tasks and provide written, audio or video feedback. The facility of giving oral feedback as an audio recording is superb from a quality of feedback and time efficiency perspective.
My Dashboard
My Dashboard provides students with statistics about their learning activity over time and about each course that they are studying.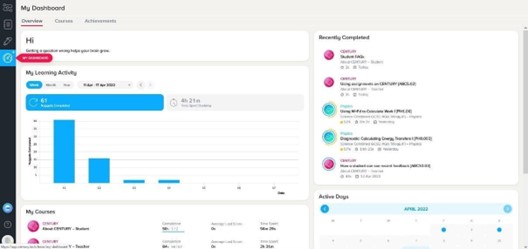 Screenshot: The student dashboard
A teacher's experience of using CENTURY
Teachers have a greater amount of functionality available to them. The teacher dashboard contains a teacher's course that explains the platform through a series of 60 or so learning nuggets. The nuggets are arranged in ten strands and cover all aspects of functionality. It takes about four hours to go through all the nuggets, but this is time well spent. However, teachers do not need to follow the nuggets sequentially; they can use the course as a reference guide, drill down or search for a relevant nugget by title, key word or nugget code.
Selecting a course
There are several courses already set up for secondary science teachers and they can be accessed from a 'Public' library. There are courses available for KS3 biology, chemistry and physics, as well as GCSE courses for AQA Trilogy at foundation level, Edexcel IGSCE Double Award science and IGCSE separate sciences. There is also an option to select higher level separate GCSE science subjects. By removing nuggets that are not relevant to a specific course, say OCR Gateway biology, the course becomes bespoke to an exam board. CENTURY plans to create other exam courses as options in the public library once authoring of the remaining nuggets is complete. Full training is provided by CENTURY to help guide teachers through this process.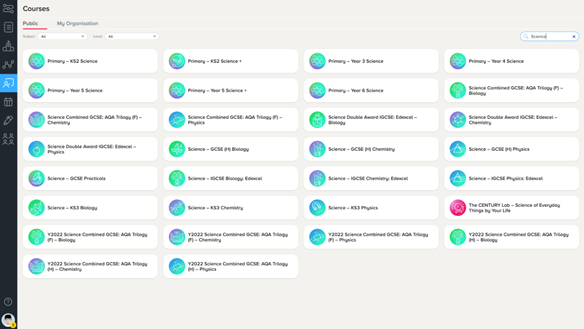 Screenshot: The Public Library of courses
Teacher dashboard
The teacher dashboard allows teachers to identify the highest and lowest performers in the class by time spent on the platform and by average nugget score. For each student, they can obtain a full breakdown of percentage nuggets completed, average score and study time. They can drill down into an individual student's dashboard, using it to identify their strengths and weaknesses. This is particularly useful for teachers to determine intervention needs.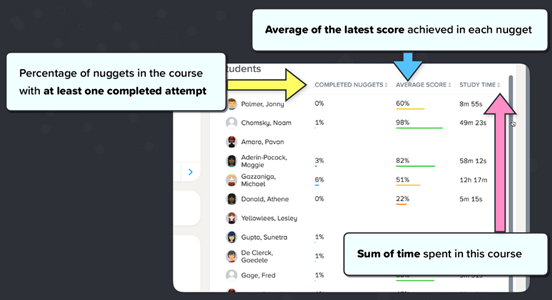 Screenshot: Teacher dashboard summarising group performance
Teachers can also access the information from the teacher dashboard using the Markbook function. The Markbook view is also customisable using a series of toggle switches and allows teachers to delve a little deeper into students' performance. The Markbook view is particularly useful for teachers to take a look at activity over time and to drill down into a nugget to explore a student's performance on that nugget by clicking on a cell.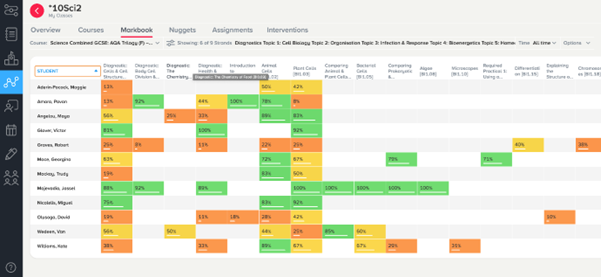 Screenshot: Teacher Markbook view
An Interventions tab reveals a continuum cross of average score against time spent for a class of students. The quadrants identify students who need additional stretch, praise, support, or who need to make more effort. Hovering over a dot identifies the student. This is an especially useful function that is integral to the platform.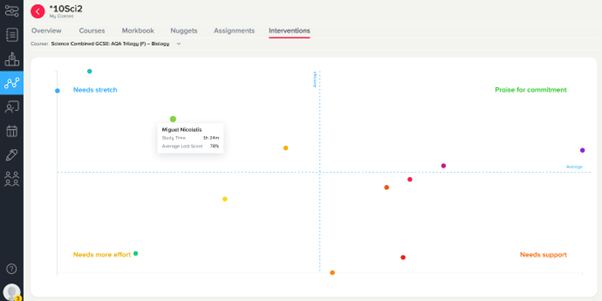 Screenshot: Intervention graph cross-view with student highlighted.
Nugget completion view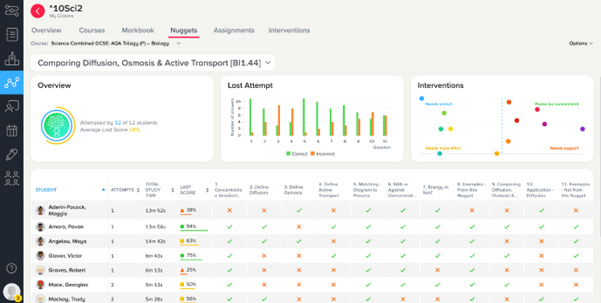 Screenshot: Nugget completion view
Nugget completion view identifies how a group of students has performed on a nugget, question by question. It provides the teacher with additional information about how long each has spent on the nugget and how many attempts they made.
Conclusions
CENTURY offers schools a learning platform that has great functionality. Diagnostic nuggets coupled with the platform's AI make it an efficient revision and complementary learning tool for students. Learning nuggets maintain student interest and motivation by being short, focused and providing immediate feedback. Schools can also use it as a learning tool that supports flipped learning or complements and reinforces class teaching. The functionalities of the assignments tool were particularly liked by the evaluators.
Our expert subject evaluators reviewed approximately one sixth of the nuggets for this evaluation. They identified many positive aspects of the platform along with suggestions for improvement, which CENTURY have undertaken to address. One of our evaluators said "I would love my students to work through some of these detailed and exhaustive questions. There's a sense that the author is teaching for understanding rather than just ticking boxes on the syllabus statements."
The CENTURY science curriculum team is responsive to feedback that users have given and use it to continually improve resources. Feedback can be given by teachers and students by clicking on a 'Help' icon on the left-hand toolbar. This allows feedback such as requests for features and reporting of technical issues such as sound clarity, as well as other feedback.
Students are able to monitor their progress over time through their dashboard. Teachers and leadership teams are able to monitor individual student and group performance and platform use, providing them with useful feedback.
Pricing for a science only subscription is based on school size. For example a school of 750 pupils would cost £2000 per year, making it a significant investment. The platform offers a versatile and powerful learning and revision tool.
CENTURY is an impressive platform, with a lot of potential for improving student learning. It would certainly be very beneficial for students in Years 9, 10 and 11 to use CENTURY for home learning and revision.