UK Teachers fly the flag with two award wins at Science On Stage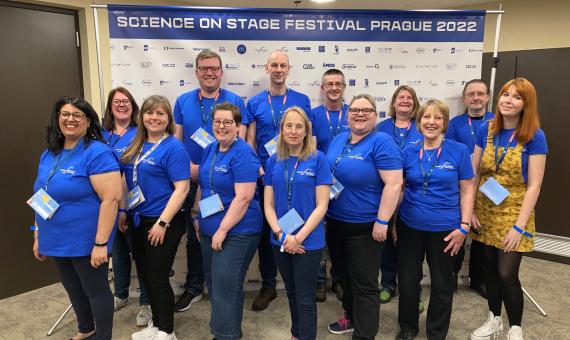 After an utterly rewarding, but very exhausting four days in Prague, the ASE delegation to last month's Science On Stage (SoS) Europe Festival returned to these shores proclaiming the expedition a great success – with a pair of UK-based teachers singled out for special recognition. The festival brings together educators from across Europe to a forum where they can share innovative projects their classes have completed, exchanging ideas around best practice and cementing cross-border educational alliances.
Winning the prestigious Czech Society of Physics award was Ian Robinson, for his project involving secondary school pupils "Geophysics on a budget - opensource research level earth science projects for school and home". Primary school educator Emma Crisell, meanwhile, scopped the Sustainable Goals in Education prize for "Food for the 21st Century - making a difference".
Founded in 2000 on the basis that best way to improve science teaching and to encourage more schoolchildren to consider a career in science or engineering is to motivate and inform their teachers, the not-for-profit Science on Stage Europe Festival brings together science teachers from across the continent to exchange best practice and teaching ideas and concepts.
This year's event saw 400-plus teachers from over 30 countries - including a much-hugged and applauded team from the Ukraine - come together to present and exchange their innovative teaching concepts at a fair, workshops and in short lectures – with the UK represented by a 13-strong team of primary and secondary teachers, and a supporting ASE contingent.
Every member of the UK team came away utterly exhausted, yet thoroughly enriched... as you can see below. We'll be featuring a lot more about the Prague edition of Science On Stage in the next issue of Education In Science magazine, while over the coming months we'll be sharing how you might go about getting involved in the Finland-set #SonS24...    
Science on stage 2022 has been one of the most valuable and immersive science CPD experiences of my teaching career.  I have shared my project on making snowflakes and climate change but learned so much more from the amazing teachers from across Europe.  Their enthusiasm and passion for science is infectious so I return to the UK with a suitcase of ideas to share with others and have a go with my students. 
Sam Ireland
"I have had the most amazing immersive CPD experience, made friends from across Euroipe and now looking forward to meeting a colleague from Italy on Monday to start working together with our schools on something really exciting.  Please can I come back again?"
Sophie Brace
Science in stage has been a joy.  Everyone here is passionate about teaching and so willing to share ideas.  I have loved telling my stories and making friends.  The whole event has been inspiring!
Jules Pottle